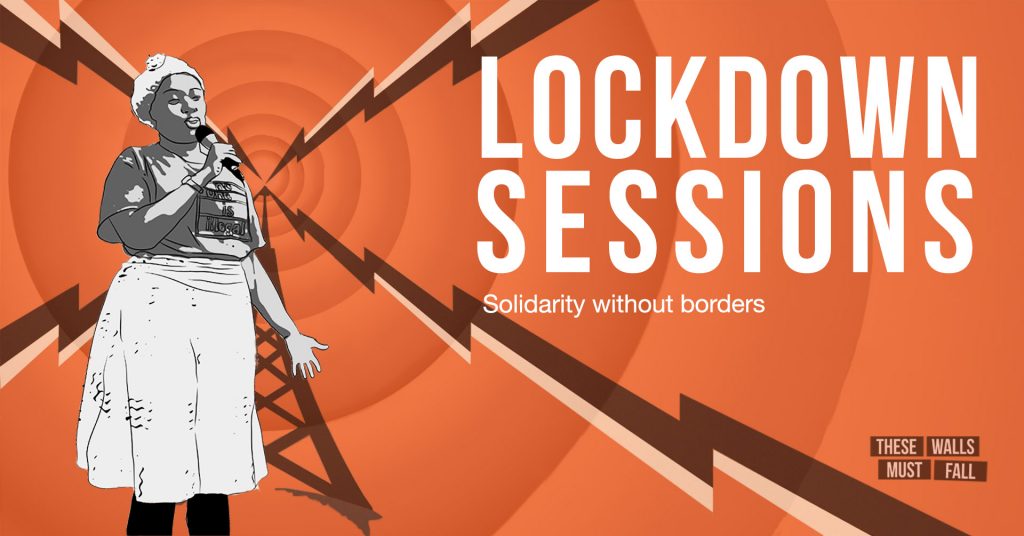 During the Covid-19 crisis, These Walls Must Fall is hosting online fundraising events, live-streaming music and performances to raise money for community projects helping at-risk migrants.
So far, over four weekend events, we have raised over £8,000!
Read on for details of upcoming and past events, and don't forget – you can donate at any time….
Past events…
Friday 26 June
SUPER SMASH BORDERS!
ULTIMATE PARTY PACK!
Powering up with the hottest in hyper and sugar sweet music.
In this brand new edition, characters from across the universe band together to stand united against the oppressive forces of borders and neo-colonialism. Together they will embark on a quest to strengthen migrant rights… how far will they get? Send your digital coins to boost their quest.
---
Friday 19 June
Music Beyond Borders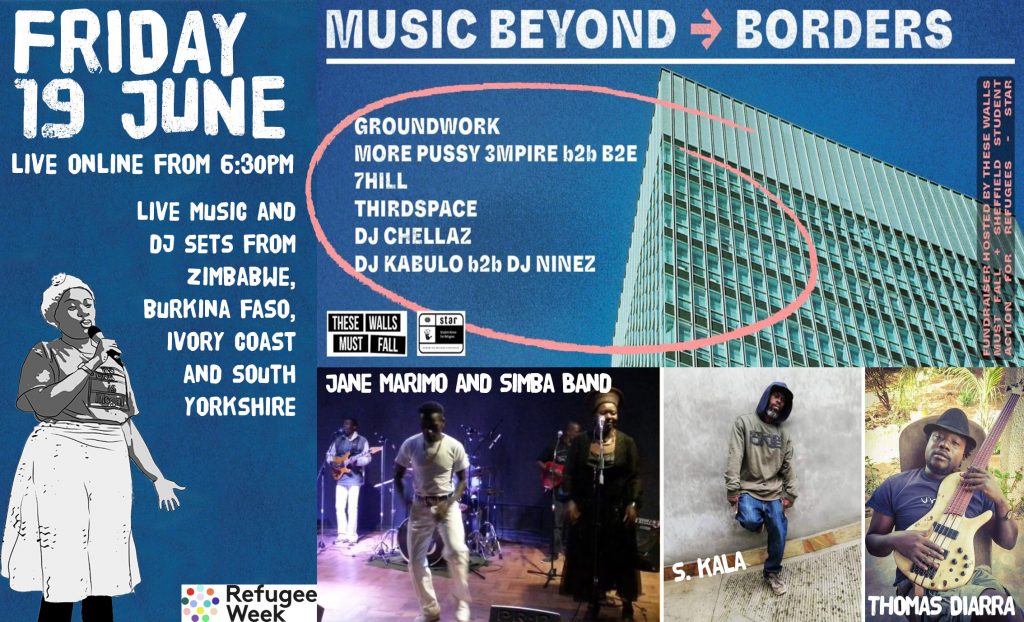 This was an event in two halves. Kicking off at 6:30pm (British time) we had live music from Zimbabwe, Ivory Coast, Italy and Burkina Faso. And then later, DJs with live sets into the wee small hours.
---
Fri 12 – Sun 14 June
40 DJ crews. 40 hours
Hope Works Sheffield hosted a massive 40 hour stream, showcasing Sheffield's record labels, electronic artists, promoters and party crews.
Everyone was devoting their time and skills for free and the aim was to thoroughly enjoy each others music, to support Sheffield artists, and raise some money for two brilliant charities supporting Sheffield causes. (Sheffield Flourish, Open Kitchen and These Walls Must Fall )
---
May 15 and 16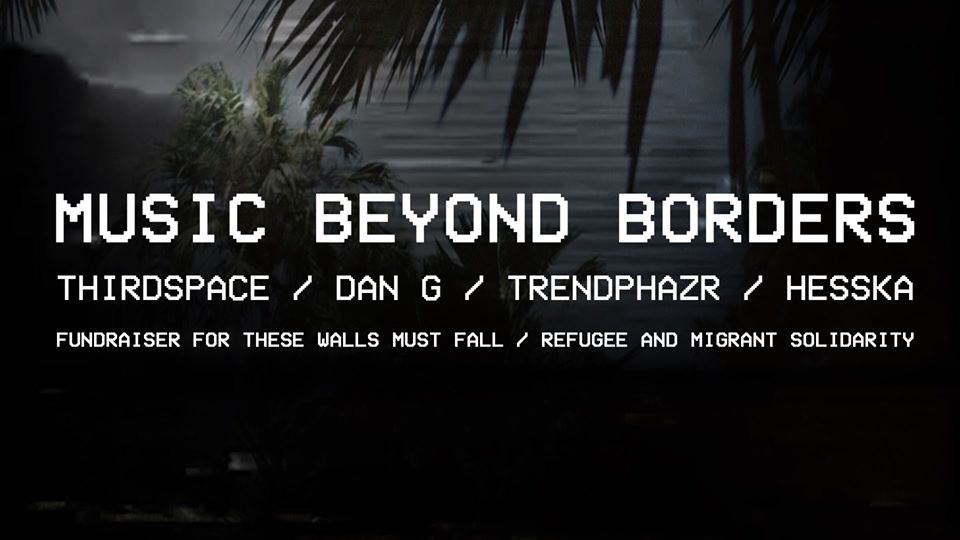 A lineup of DJ's based in Sheffield and Manchester played awesome sets. This was forward thinking, underground electronic music, with dollops of garage, grime, dub and electro. We had Hesska, Trendphazr, Dan G and Thirdspace DJ's.
With the cancellation of this year's Eurovision Song Contest, there is a deep hole in many of our hearts. We needed something to fill it, something to help bring us together in a spirit of unity…
A Song for Lockdown competition!
And what a show it was! Words literally cannot describe this event.
Presented live from two different cities simultaneously, our hosts, Terry Wigan and Eureka Bonceon, took us through the dazzling array of entries, before the public voted for the winner of the coveted Golden Bogroll trophy.
Some entries were absolute bangers, some profound works of art, and some were just plain embarrassing for all concerned. Which ones are which? Well, you can view them all on YouTube now:
---
Friday May 1
Our second fundraiser was on Friday 1st May is May Day, or International Workers Day. To celebrate our solidarity with migrants, we hosted an online gig of political folk song, poetry, and spoken word, and then later DJs with music and performers from around the world.
Thank you so much, everyone who donated, who volunteered to organise, and of course to al the wonderful artists who performed for free.
---
We had great fun, listened to beautiful live music, poetry and then banging tunes from the DJs.
The Sandpipers kicked off the night with beautiful folk songs old and new, delicious harmonies, feminist folk anthems and general silliness.
Next up were some of the herd from Three Acres and a Cow, beaming in from three separate locations. Musicians, poets and storytellers explored land rights and protest in England, Wales and Scotland throughout the ages.
DJ Naf played a mix ranging from experimental to techno, and everything in between.
DJ Kom Kom, of Sheffield's Barang! Collective, played soca, kuduro, dancehall, and afrobeat.
DJ Nimble Jack brought the night to a banging conclusion with quirky house, a bit of percussive techno and the odd nod to bass music.
---
Saturday 2 May
Sheffield's Gut Level hosted a 14 hour Party Live Stream extravaganza, raising money for for Foodhall / Sheffield and the These Walls Must Fall Coronavirus Solidarity Fund.
---
Friday 24 April
Our first fundraiser online event was a blast!
Massive thanks to Tich and the Off Me Nut Records crew who threw a beach party in our living rooms. Great tunes, great fun, and loads of money raised.