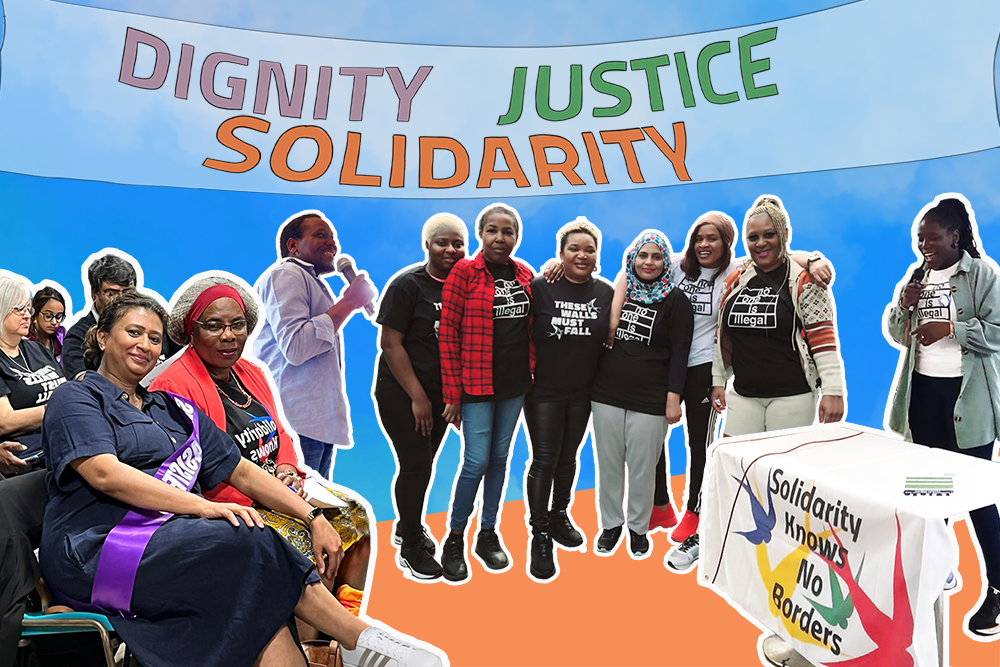 On a beautifully sunny day in June this year, migrant organisers and allies came together in Manchester for a gathering as part of the Solidarity Knows No Borders week of action.
The event was organised by a new coalition of Manchester groups and organisations who have been working together to respond to the increasingly hostile environment. Local These Walls Must Fall campaigners formed an organising group with Greater Manchester Immigration Aid Unit, Women Asylum Seekers Together, No Borders Manchester and Safety For Sisters.
We'd like to say a massive thank you to everyone who made this event happen, and especiialy to Rivka and the GMIAU team for facilitation!
10 years too long: we will end this hostile environment
The hostile environment is not new. We may commemorate its official 10 year anniversary this year, but the roots go back further, as do the groups who organised  this event. Most of them have many, many years of experience of dealing with the immigration and asylum system, and this experience will be crucial in the coming struggles for justice.
Two speakers personified the long struggle and the determination of grassroots campaigning…
Local These Walls Must Fall campaigner Mavis Harrison first met Agnes Tanoh 10 years ago, at the start of the "official" hostile environment. They had been thrown together by chance, when they were locked up at Yarl's Wood detention centre. Since that day, they have been organising and campaigning for justice, in their own communities, after release from detention. Last month, the two were reunited at a protest outside Hassockfield/Derwentside, the new detention centre for women.
At the Manchester event, Agnes and Mavis were together once again, to speak about their struggles, the solidarity that has kept them going, and planning for the challenges ahead.
Greater Manchester Immigration Aid Unit
Ahead of the event, Rivka Shaw from Greater Manchester Immigration Aid Unit (GMIAU) said:
"People in Manchester are experiencing the hostile environment every day. Most of the people who will be speaking are experts by experience of the immigration system. We want to listen and discuss and hear people's experiences."
On the day, GMIAU, held a public hearing into the hostile environment, with people's testimonies to hold the Government to account. Everyone got enthusiastically involved.
It's a very powerful way for people who often feel at the mercy of the Home Office and its decision making to stand up and say they are making this judgement back on them.
GMIAU also presented their new research on the effects on children of the signing/reporting system. The research was launched on the day and some of the contributors were women from WAST ,TWMF and Safety4Sisters.
The research had an impact on change and demands that supports the abolish reporting campaign. As a result, the government has announced a new system, and Dallas Court has promised change and better treatment to those who are reporting. Telephone reporting was one of the dignified systems they promised to use but we are still waiting to see it happening.
Building on strong foundations
In Manchester, groups have been building communities of resilience, knowledge, solidarity and resistance for years. And right now they are working together in a new coalition to resist the latest government attacks and to build the movement for radical change.
As more allies have been drawn into the movement following the Nationality and Borders Act and the Rwanda plan, it is more important than ever that migrants can organise these spaces, in order to continue leading the movement from the grassroots.
The aim of this event was to hold a space for migrant campaigners and organisers to meet, speak out, and discuss priorities and strategies for the ongoing struggle for migration justice. As well as these urgent discussions, there was chatting, socialising, food and music – all important components of our movement.
"One of our speakers has been fighting the system for 10 years. By the time some people get their right to work and stay in this country they are already messed up, their mind is imprisoned. When there are protests, they often don't have enough time for people with lived experiences to really speak out. We are just asking for more solidarity."

Maggy Moyo, TWMF Organiser in the North West
A recurring theme of the event, as in other recent events, is the growing urgency for change, and growing need for community support and solidarity. More people who are going through the immigration system are stepping up to leadership roles in the movement. But at the same time, the Home Office is making our lives harder and harder. When we campaign, we must also look after each other.
Groups like These Walls Must Fall, WAST (Women Asylum Seekers Together) and Safety 4 Sisters are experts at this kind of mutual aid and solidarity campaigning. Also at the event were volunteers from Manchester No Borders, who have been providing essential practical solidarity to people who have to report at Dallas Court, and who may be detained.
Our movement is growing. In Manchester we are building a coalition that is ready to take on the government and the racist hostile environment. Join us!