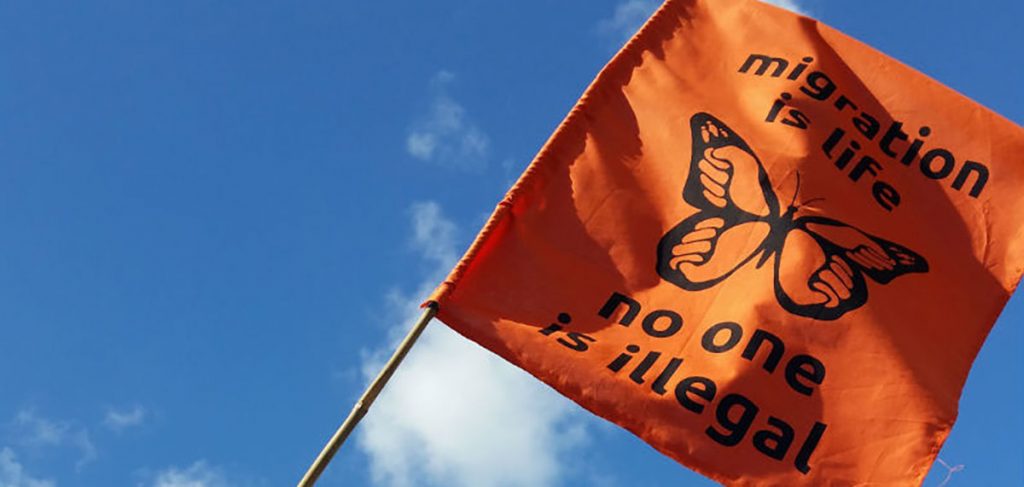 The government has announced plans of 'offshoring' which will send some people seeking asylum in Britain to Rwanda where their asylum claims will be processed. We don't yet know how, when or even if these evil plans will come into effect, but we are not going to accept it!
Manchester campaigner, Glory Owe said:
Every time we hear an announcement like this we feel under attack. We are sick of being used as pawns in a racist game of politics 😰 . We've had enough. I am ready for this – are you? Will you join us in this struggle, join the movement? We demand justice, dignity and solidarity.
Eiri Ohtani, Director at Right to Remain, writes:
The government's Nationality and Borders Bill which is currently going through Parliament and is expected to soon become law includes a provision to create offshore immigration processing centres for people seeking asylum.
Many legal experts have expressed their concern over the legality of this provision. It is also expensive: it is reported that the Rwandan trial, which will target single men, will cost £120m.
Of course, morally, this is unacceptable.
At Right to Remain, we firmly oppose the British government's continuing attempt to globalise its flagship 'Hostile Environment' policy, designed to harm people seeking asylum and migrants and damage our communities of solidarity.
People who come to our shore in search of safety, whatever their methods of arrival, need compassion and protection: this has always been the case and this will always be the case. Flying them out to Rwanda, forcing them to face further uncertainties, is entirely unnecessary.
In fact, people have always migrated, and always will. This offshoring proposal, like many other harmful border enforcement practices such as immigration detention, will not stop any of this. Nor will it extinguish our shared sense of humanity that drives many of us to help each other in our everyday life of struggle and together resist cruel and inhumane policy proposals that are thrown at us.
While we might be awaiting further details of this latest proposal to emerge, it is no time to be idle. As Lisa Matthews, our Coordinator, said in the past:
"We need practical actions that make a difference to a person that day, we need bolder acts that disrupt the operating of the system that harms so many; and we also need to argue for a different way, a different society, a different world in which we recognise that Migration is Life."
We need to build a world in which everyone can exercise their right to remain, where they need to be, in dignity, safety and peace. If you are outraged by this latest government proposal, join us and show the world that it doesn't have to be this way.
What you can do
We need a mass movement against this racist system. We are building that movement now.
Attend the demonstrations if you can – tonight (14 April) in London and Liverpool; and 16 April in Glasgow announced at the time of writing.
And join us for a Solidarity Knows No Borders week of action in June. It's only a few weeks away. Save the date: June 13th to 19th, and check social media for announcements about planning events