Last Saturday, 18 March, Yorkshire These Walls Must Fall campaigners travelled to County Durham to join the monthly protest outside Derwentside Immigration Removal Centre for women. Massive thanks to our friends at Symaag, South Yorkshire Migration and Asylum Action Group, for organising coaches from Sheffield.
Solidarity knows no borders
Our journey on Saturday from South Yorkshire to County Durham was a mission of solidarity. Many of us at These Walls Must Fall have experienced detention ourselves. All of us have been threatened with it at some point, many living for years with the constant threat of detention.
Detention destroys lives, isolates people from community support and legal help, and is one of the most frightening and violent aspects of the racist hostile environment.
Detention, and expansion of the numbers of detention centres, is also a key component of this government's plans to abolish the right to claim asylum and deport everyone to places like Rwanda. Now, more than ever, we need to come together and stop this detention machine from growing, and fight to abolish it completely.
Derwentside immigration removal centre for women, also known as Hassockfield, was opened in 2021. Previously it was the site of a notorious detention centre for young men. In 2019, a police investigation uncovered decades of unspeakable abuse against the young men incarcerated there, carried out by detention officers. So far, the government has resisted calls for a public inquiry into how this abuse was allowed to happen for so long.
Locals fear that by re-opening the place as an immigration detention centre for women, the violent and inhumane history of this facility continues. A coalition of local people and groups has led the campaign against Derwentside since the plans were made public, have continued the fight since it opened, and are determined to keep going until it is shut down.
Remote location, tense and oppressive atmosphere
Upon arriving at the centre, I was struck by the starkness of the facility. High walls and barbed wire surrounded the complex, and the atmosphere was tense and oppressive. As we walked around the road with drums and whistles we saw families visiting their loved ones held there, and they brought messages from them. Most of whom had fled their home countries due to persecution, war, or poverty. Many had been held in detention for months, if not years, with no clear path forward.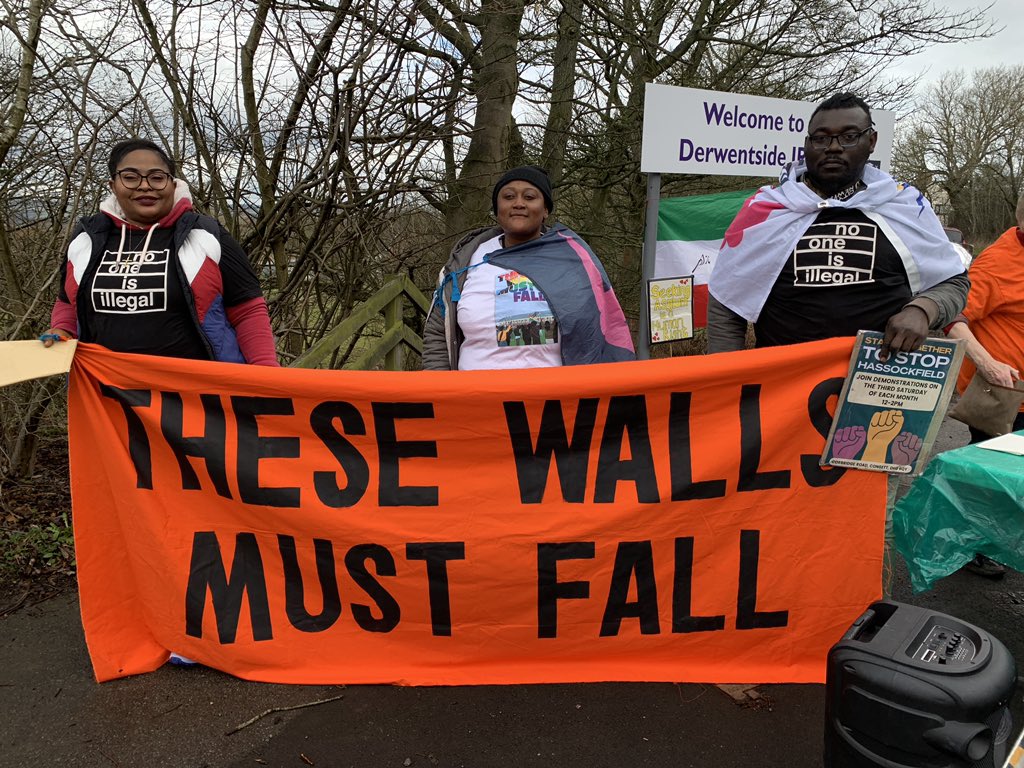 Speakers at the event included people formerly detained, who had managed to secure their release and were now advocating for those still held in detention. The stories we heard from the people who now have freedom were heartbreaking. They spoke of being separated from their families, of being denied access to legal representation or healthcare, and of being subjected to cruel and degrading treatment. Some had been forced to share cells with violent or abusive individuals, while others had been placed in solitary confinement for weeks on end.
The protesters at the rally were passionate and determined. They held signs demanding justice and chanted slogans calling for an end to the inhumane treatment of detainees. One of the most powerful moments of the rally was when a group of us led a march to the entrance of the detention centre to deliver cards for those inside, holding hands and singing songs of solidarity. It was a poignant reminder of the resilience and strength of those who had been held in detention, and a call to action for those on the outside to fight for their rights.
Despite the grim circumstances, there was also a sense of hope at the rally. We protesters were determined to make our voices heard and to hold those in power accountable for the treatment of people and set them free.
In the end, the rally at the Derwentside Immigration Removal Centre was a powerful reminder of the importance of speaking out against injustice and fighting together for justice and freedom. It was a call to action for all of us to work towards a more just and equitable world, where no one is left behind or forgotten.
There is a growing movement in Britain that is challenging the extremist politics of the hostile environment, advocating for an alternative society built on compassion and solidarity. It's time for us all to step up.