Thanks so much to everyone in Sheffield who has been involved or in touch so far. We had a great first public meeting with ASSIST and SYMAAG on 11th March. Many thanks to all of you who came along and for your input. It looks like there's a lot we can do, so let's get organising!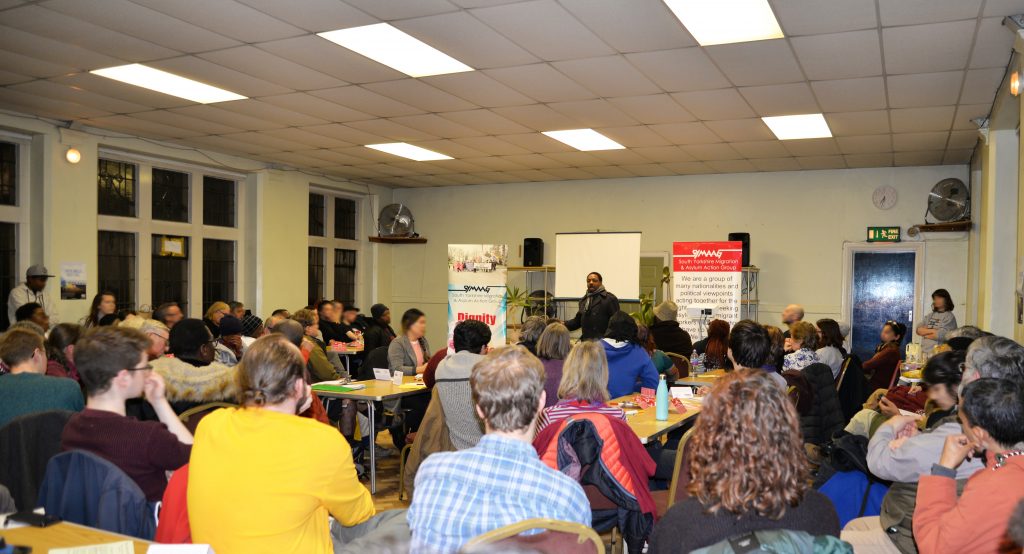 Next steps
Our next These Walls Must Fall organising meeting will be
Monday 15th April
6:30pm – 8:30pm
Quaker Meeting House,
10 St James Street S1 2EW
We will have tea, and milk (dairy and non-dairy). Please feel free to bring any other drinks or snacks for yourself and/or to share.
** It would be great if you could email to let me know if you're planning on coming on 15th April, so that I can know how many people to expect. (However, it's fine to just turn up on the night). *
Getting organised
At the meeting we'll be working on progressing the campaign to the local council, thinking about putting a motion and asking local politicians to use their influence to help end the unjust detention of members of our community.
We'll also be discussing how we can build mass community support for the campaign, and putting pressure on those in power, based on the things that came up most at the last meeting:
Sheffield organising meeting 15 April
Draft Agenda:
Writing a motion to Sheffield City Council to support These Walls Must Fall, plan how to build support for it, and think about concrete asks we can make of the council.
How we can we get our local MPs to support the campaign and raise the issue in Parliament.
How we can use our existing skills to to raise awareness about the unjust detention system and the impact it has on our communities.
How we can use our existing skills to build connections and support between those at risk of detention and their allies through education, community building, and peer-support.
Creating a number of These Walls Must Fall working groups, where people with similar skills can work together to develop useful ways to build the campaign. Based on what you mentioned, this might be in the following (and probably more – what an incredibly skilled bunch you are!):
writing stories about detention from personal experience
campaigning with trade unions
direct action/protest
student organising
building support in faith communities
raising awareness
music/art/design
research
filmmaking
sports
press
social media