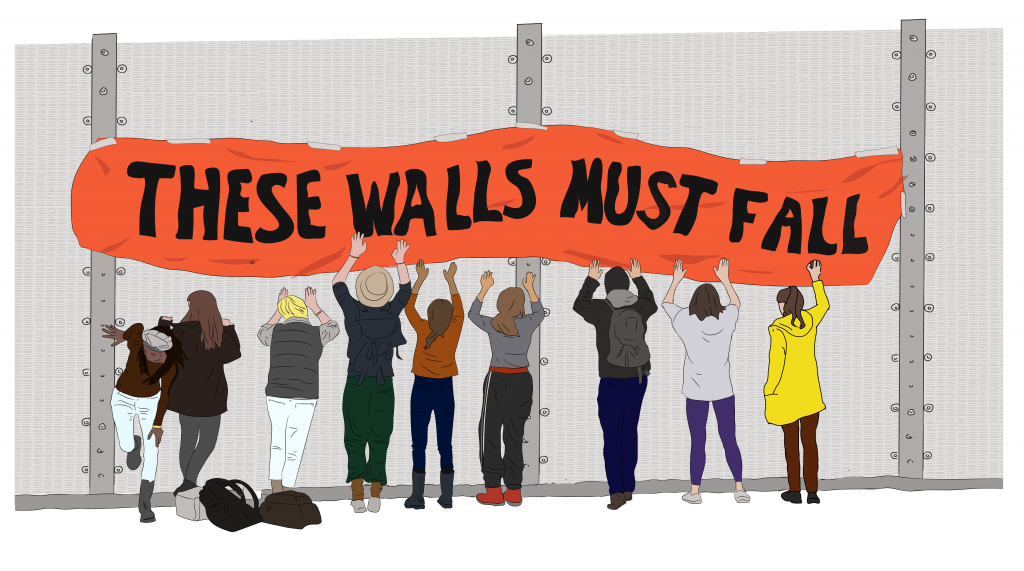 Due to the increasingly grave situation with the spread of Covid-19, the organisers have decided to cancel the protest for now.
---
The event was planned by Sheffield Student Action for Refugees, South Yorkshire Migration and Asylum Action Group, and These Walls Must Fall supporters, as a national protest at Morton Hall detention centre on the 14th March 2020.
In light of the current situation with Covid-19, the event was cancelled, and an alternative open air event at Sheffield Town Hall was held instead.
Get involved:
get "signed-up"!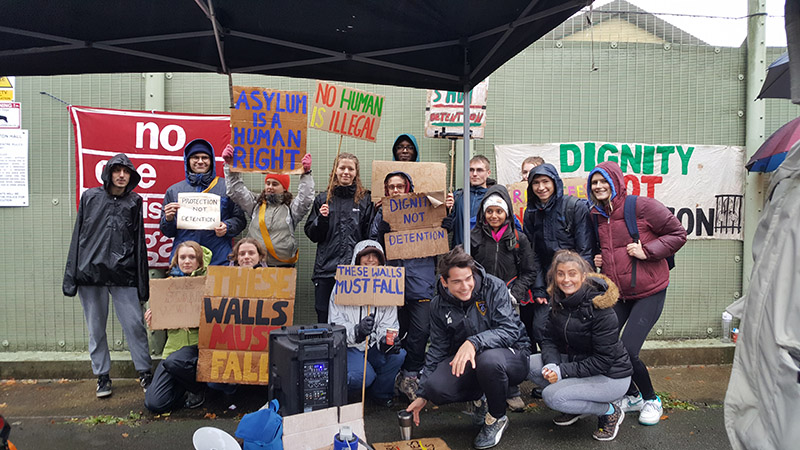 Coming to a protest? Lets make a visual impact! Why not organise a banner-making and sign-making session with your friends? It's easy – just get some paint (acrylic is best – it's water-based and waterproof when dry). You can pick it up at art stores. Go for the cheap stuff, no need for professional artists paint 🙂 For signs Paint on cardboard or whatever you can find.  For banners, you can use an old bed sheet, or buy some cheap fabric – polycotton is cheapest and best for these purposes. Grab some at your local fabric store, or get if from ebay.
Bring the noise!
As well as banners, placards and signs, bring your vuvuzelas, whistles, musical instruments, pots and pans to bang – we will be making as much noise as possible!
Spread the word
Even if you can't come, you can help to give the protest a boost through social media, emailing people, and so on. Share this webpage, the facebook event, you know the drill.
Don't forget the hashtags: #TheseWallsMustFall #EndDetention #ShutDownMortonHall
---
Background to the Demo:
Morton Hall is an ex-prison, now detention centre run by the Prison Service for the Home Office and can detain 392 people.
There were FOUR deaths at Morton Hall in 2017 and there are constant reports of violence by staff and self-harm by people detained there. Victor, Benji and Kunzani, our friends and South Yorkshire residents were held in Morton Hall in 2019.
The other six detention centres are run by private companies G4S, Serco and Trump's favourite private prison company GEO.
On 12 March 2019 the Home Affairs Committee reported on Detention and said
'The Home Office has shown a shockingly cavalier attitude in its approach to immigration detention and overseen serious failings in almost every area of the immigration detention process… has utterly failed in its responsibility to oversee the safe and humane detention of individuals in the UK'.
We ask supporters of migrants rights and those opposed to detention and the hostile environment to join us at Morton Hall to let the detainees know we are support them, and to show the Home Office we are watching.

Bring banners, placards, vuvuzelas and musical instruments – we will be making as much noise as possible!

For press enquiries email refugees@sheffield.ac.uk